For sale: My beloved Coupe

A
lot
of love and money has been applied to this car during the near 7 years I've owned it; I've thoroughly enjoyed owning it, but I feel it is time to move on, so I've bought a newer car and now my Coupe needs to go to a new home. As a long term lurker on the Coupe forums, I thought I would give you guys first refusal before it goes to Gumtree, etc.
EDIT: I have a Peugeot Planet 2000 cable and disc set that I will include with the car - though I've never got round to using it myself

The car is currently based in Aberdeen, but depending on the buyer's location I may be able to drive it at least part way, within reason (Glasgow, Edinburgh, Inverness) once a sale has been agreed.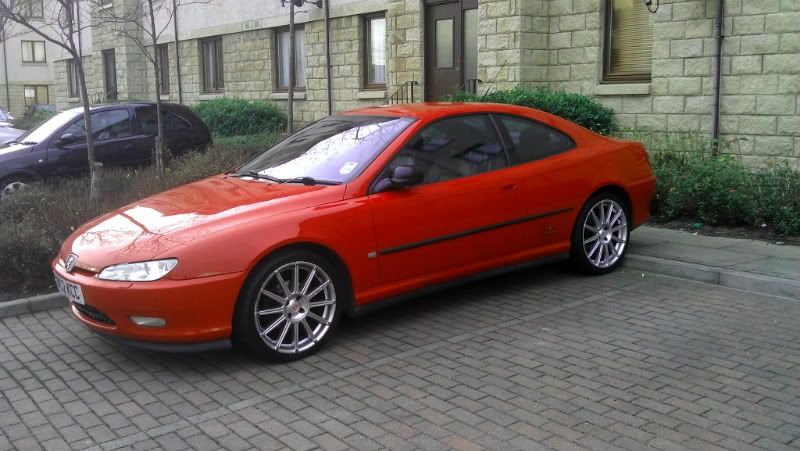 It's a 2.2 petrol (EW12J4 engine, 5-speed manual gearbox), manufactured in March 2002 (02-plated). Scarlet Red paint, and in SE trim, so from factory it has:
- black ruched leather interior
- motorised front seats with drivers seat position memory
- auto-dimming rear view mirror
- automatic headlights
- digital climate control
- cruise control
- satellite navigation system
- JBL amplifier and speaker set
- auto-dimming rear view mirror
- headlamp washers
- trip computer
It has MOT until February 2018, with the only advisories being that the front brake discs are starting to wear a little.
The car has done 116,000 miles, and I bought it in November 2010 with 62,000 miles on the clock. There is no outstanding finance and the car has not been declared written off at any point.
Maintenance work carried out:
- Timing belt, water pump, tensioner kit, and the aux belt and aux belt tensioner, were all changed at 63k in early 2011
- Fuel rail and fuel injectors have been replaced
- Brake calipers, discs, pads, handbrake cables, and master cylinder were all changed in 2014
- Shocks, springs, and top-mount strut bearings were all changed in 2015 (KYB K-Flex springs front & rear, Monroe gas shocks at the front, Koni gas shocks at the rear)
- Clutch was changed at around 100,000 miles in August 2015 (brake servo was changed at the same time)
- Full four-wheel alignment was carried out in September 2016 and two brand new front tyres were fitted
Modifications:
- Powerflow cat-back stainless steel exhaust system (fitted at Turriff Tyres in 2011)
- Goodrich braided brake hoses
- 19" Mille Miglia T12 alloy wheels (running tyre size 235/35/R19 on all four corners, and mounted using 10mm hubcentric spacers)
In-Car Entertainment:
- Sony MEX-BT3600U head unit (supports Bluetooth hands-free calling and Bluetooth streaming audio, AM/FM/MW radio, MP3 through USB pen drive, CDs, AUX in)
- JBL GTO938 16x9 rear parcel shelf speakers
Good points:
- the air conditioning works
- Peugeot white dials (genuine part, taken from a scrapped 406 saloon/estate)
- Chromed interior door pulls
- Citroen washer jets
Bad points:
- the passenger mirror doesn't move on command
- the passenger seat blows its fuse (put a new fuse in, the seat moves just fine, but the fuse will blow again soon afterwards)
- the heated seats no longer work
- there is some lacquer peel and stone chips on the bonnet, the roof, and the boot lid
- there are a couple of small bodywork dings (nothing major)
- there is the usual wear and tear on the seat bolsters and piping
- the built-in satnav doesn't seem to work (probably a faulty disc, but I always use Google Maps on my phone anyway)
- the alloys are all kerbed and could do with a refurb (they were like that when I bought them from ade1122; the damage is all cosmetic and the wheels hold air in the tyres just fine)
I tried replacing the mirror control switches with a used one from Ade1122 but this hasn't fixed the passenger-side unit. I'd love to be able to fix this and the passenger seat movement issue prior to sale.
I really want this car to go to a good home, rather than to a scrap yard. Any offers from here would be considered.