Ok - got the bonnet up. Clip is present on the throttle cable but further investigation revealed the cable to be a slack as yer grannies drawers! I took the clip off and took up the tension in the cable, just before the point where there was a perceptible change in the idle speed and replaced both parts of the clip. Picture below shows the original position of the clip and where I had to move it to to pick up the slack - a distance of about 20mm or so.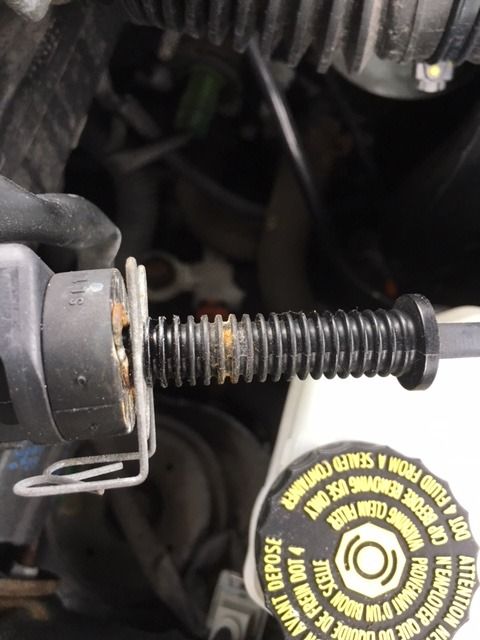 Took it for a drive and - my god - what a difference. Response was finally there. Whether the turbo is doing its stuff, or nay, I wouldn't know because I have never owned a car with one. Certainly, it appears to respond better now but, apart from that, how do you know? I mean, is it an audible thing ? (Visions of sucking noises and flames coming out the exhaust....! Think I watch too many movies!

)
So, to GingerMagic, Highlander and Welly: gentlemen, a huge 'thank you' for the recommendation of looking toward the throttle cable first. Seems to have worked wonders.
My inquisitive nature now has me wondering though,
why
was the cable slack, especially as it had only just gone through the MOT two days before I bought it (don't imagine this is something that is tested for though, is it?). Do you reckon it is likely a stretched cable or, less likely, that the clip was placed in the wrong position?
Either way, am much happier with the car now and can report that it has now reverted once again to "The Drive of your Life" rather than feeling like " The Drive at the End of Your Life!" it has felt since the day I bought it. No more 0-60mph 'by appointment only' !
Well now, looks like the embarkation of a whole new voyage of discovery has begun. Whilst delighted with the progress, I am planning on handing it to a friend with vastly more experience than I with PP2000, just to get a picture of where I really stand with things. Can only be a good thing I would hope....